PlayStation Underground Virtual Magazine Makes Surprise Return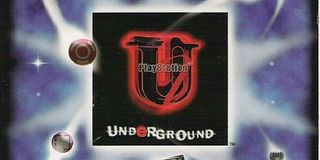 An unexpected blast from the past, Sony today announced the triumphant return of PlayStation Underground, a video magazine geared at showing off games, sharing news and giving players an inside look at the industry.
Well, that's certainly a paragraph I didn't expect to be writing today. For those of you who either missed out on PlayStation Underground in the 90's or *gulp* weren't born yet, you can think of it as a sort of virtual guide to all things PlayStation. You subscribed to the service and, along with a sweet membership card and the occasional piece of surprise swag, you received a regular "virtual magazine" disc that included all sorts of behind the scenes interviews with developers, hands-on first looks at games and demos. Aaaaah, demo discs. How I miss them.
More recently, PlayStation tried something similar a few years back with Qore, hosted by Veronica Belmont, on the PlayStation 3. Qore offered those interviews and hands on impressions we were just talking about, as well as offered a collection of oddball, free games.
Coming completely out of left field today, Social Media Specialist Ryan Clements pulled back the curtain on a revitalized PlayStation Underground, the first episode of which is available right now. It clocks in at around 20 minutes and you can either view the whole thing above or check it out on the PlayStation Blog. As a quick note, if anyone attached to the project is listening, creating a spot for new episodes of Underground in the PS4's news feed would be a great way to get people watching. Just sayin'.
"Now we're bringing PlayStation Underground back in the form of an online show about video games," Clements explained. "We play for a bit, talk it out and sit on a pretty sweet couch. Simple."
Clements goes on to explain that, for the time being, the new incarnation of PlayStation Underground is planned as a bi-weekly show, with plans to evolve into a weekly update in the "near future."
"Underground is just getting started, so you can expect a few things to change over the coming months as we fall into a rhythm of our own and tidy up the place," Clements aid. "…We have lots more to show you."
Personally, I'd be thrilled if the new version of PlayStation Underground were to take off. Several sites offer pretty decent, low key video news shows, but I imagine something with the official PlayStation branding could earn unprecedented access to upcoming games. This first episode, for instance, goes behind the scenes with the team at Harmonix and their upcoming rhythm game, Amplitude. This seems to be the perfect place to dish out new details on, say, Uncharted 4 and whatever Sony Santa Monica is working on that is almost definitely a new God of War game.
Your Daily Blend of Entertainment News
Staff Writer for CinemaBlend.
Your Daily Blend of Entertainment News
Thank you for signing up to CinemaBlend. You will receive a verification email shortly.
There was a problem. Please refresh the page and try again.