Pokemon GO Releases Details On Battle Mechanics And More, Get The Details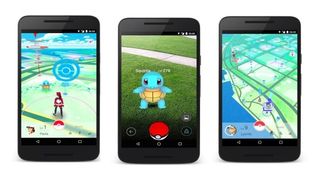 The Pokemon Company and Niantic have been testing Pokemon GO across various regions, including recently opening up the closed testing phase in North America for select gamers. Recently they let loose some additional information on how battles work and the microtransactions.
IGN did a write-up on the new features, including explaining how players will be able to collect more than 100 different Pokemon featured throughout the gameplay experience of Pokemon GO. The game will allow players to take the Pokemon that they've trained and pit them against other trainers, battling for prestige and to claim Pokemon gyms as their own.
According to the article, other Pokemon are assigned to the gyms, and players will have to battle the Pokemon and dwindle the prestige down to zero in order to claim the gym as their own. Once the prestige and all zapped and players take over the gym for themselves, it's then time to assign one of their own Pokemon to the gym and battle others to raise the prestige once again. This gives the game a sort of infinite amount of replayability, as various gamers will attempt to battle and control gyms in their local area. This particular feature in Pokemon GO is a little bit like the realm-vs-realm siege modes in MMOs.
They don't go too much into the details of the actual combat, but from the videos I've seen it didn't look like players had much control. The screenshots show only one GUI button but it's been said that the combat is handled with touchscreen swipes. You can definitely see that in one of the shots it's possible to flee the battle or switch out Pokemon.
The IGN article mentions that players can pick up Poke Balls and other useful items from PokeStops, which are located at real life locations such as art installations and historical locations. I do wonder how well this will work with Pokemon GO in terms of getting people to travel around outside?
At the very least it should increase some aspects of social interactivity with people as players battle to control gyms and travel around looking to raise their prestige.
Niantic has been extremely secretive about Pokemon GO, keeping the game very much under wraps and only testing it amongst a small pool of gamers. The NDAs applied to the game have been designed to keep a lot of the information from leaking online. Some videos and screenshots have surfaced anyway, as players have taken extra precautions to hide their username and profile data to avoid being kicked out of the beta by Niantic, or worse yet sued for breaking the NDA.
What we do know is that the character customization is deep enough that players will have plenty of options to deck out their trainer before heading into battle. IGN also notes that there are microtransactions that will be available to purchase extra in-game coins and items. The microtransactions are being called "PokeCoins".
Pokemon GO still doesn't have a release date set in stone, but it will be free-to-play for Android and iOS devices and will launch before 2016 is out.
Staff Writer at CinemaBlend.
Your Daily Blend of Entertainment News
Thank you for signing up to CinemaBlend. You will receive a verification email shortly.
There was a problem. Please refresh the page and try again.