Pokemonium, Free-To-Play Pokemon MMO Beta Updated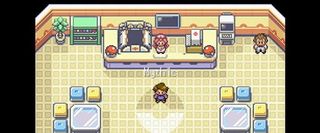 A new update has been released for the open source beta of Pokemonium, a free-to-play Pokemon clone that enables gamers to come together and battle it out to be the best in a sort of MMO-style Pokemon game. The game is now up to beta 1.4.0 and still hasn't been shut down, so that's a good sign.
DSO Gaming managed to spot the patch notes, which makes a number of improvements to the game (because it would be pretty backwards-minded if the patch broke the game like a certain Street Fighter X Tekken, eh?).
The game itself is based on the Pokenet server architecture and was designed by some chaps at the RageZone community and a rather meticulous fellow going by the name of DefaulT. Anyway, the update includes fully functional EVs, no more client crashing, auto-save to the server has been added and confirmation of logging out is now doable by pressing the 'Enter' key. Always nice to have utility convenience added to a game.
Considering that Nintendo doesn't like taking money in mass amounts simultaneously from hardware and software sales, it looks like this is the closest gamers will get to a real Pokemon MMO. You might want to hop into the action as soon as possible before Nintendo starts putting together their cease and desist missive.
You can learn more by paying a visit to the Official Forum to learn more about the updates or download the community-based MMORPG.
Your Daily Blend of Entertainment News
Staff Writer at CinemaBlend.