Prince Of Persia: The Forgotten Sands Pre-Order Bonuses Announced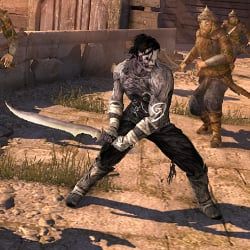 Select retailers will be offering exclusive incentives to gamers who pre-order Prince of Persia: The Forgotten Sands for the PS3 or Xbox 360. Today Ubisoft announced the incentives offered by GameStop, Amazon, and Best Buy.
GameStop: Exclusive Forgotten Arena game mode - "You'll encounter waves of relentless enemies, which you must defeat to replenish your health meter and survive the trial. With no time limit and an ever-increasing number of enemies, staying alive means countering devastating hordes until you are overwhelmed by the onslaught. If you can kill more than 100 enemies, you may have what it takes to become a real Prince of Persia." Exclusive game mode is only available with pre-order code and unlockable at the beginning of the game.
Amazon.com: $5 off and an exclusive Prince of Persia Gameloft mobile game
Best Buy: Exclusive SandWraith playable skin - "In Prince of Persia: Warrior Within, the Mask of the Wraith transformed the Prince into a sinister being possessed with the power to coexist in the same timeline as his former self. Now you can adopt this dark and disturbing look as you play through Prince of Persia The Forgotten Sands."
Forgotten Sands is slated for a May 18th release. Though these pre-order bonuses are only for the PS3 and Xbox 360, the game will also be released for the PC, DS, Wii, and PSP.
Your Daily Blend of Entertainment News
Staff Writer at CinemaBlend.