Project Adventurer, Uncharted Clone For Xbox 360, PC Gets New Screenshots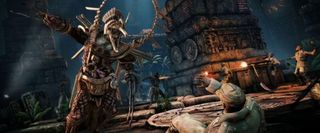 Project Adventurer, an action-adventure game for the Xbox 360 and PC from small-time development studio The Farm 51, has received a smattering of new screenshots that sport a few shots of the game's exotic locations set during the timely era of the 1930s.
DSO Gaming managed to grab the new screens as they depict the heroes of the game exploring lush jungle environments, frigid cold snowy bunkers and some mystical ancient ruins.
The game, all around the web, is being called a ripoff, duplicate, doppelganger and clone of Naughty Dog's prestigious blockbuster action-adventure franchise, Uncharted. Imitation is the best form of flattery, eh? Well, I'm not complaining because so far both Xbox 360 and PC gamers have yet to receive a third-person title quite on par to the highly lauded Uncharted series for the PlayStation 3. The game(s) sort of stand in a league of their own this generation, mixing both interactive, twitch-skill combat with smooth-as-milky-butter cinematic sequencing and Hollywood blockbuster set pieces.
It remains to be seen if Project Adventurer will be able to capture the same sort of dynamic feel as Uncharted, but the fact that console and PC gamers will be able to receive a gorgeous, Unreal Engine 3 powered title that at least attempts to bring some of the dynamism of Uncharted to a multiplatform spectrum is pretty cool nonetheless. Whether Farm 51 can deliver or not will be a real trial of their talents.
You can learn more about the game over at the Official Facebook Fanpage or check out the new screenshots below.
Image 1 of 5
Your Daily Blend of Entertainment News
Staff Writer at CinemaBlend.
Your Daily Blend of Entertainment News
Thank you for signing up to CinemaBlend. You will receive a verification email shortly.
There was a problem. Please refresh the page and try again.