Prototype 2 Released Worldwide For Consoles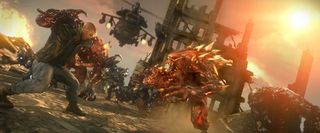 The sequel to dark open-world game Prototype has arrived. Prototype 2 can be purchased in stores throughout the world for the Xbox 360 and PS3. You'll have to wait a couple months for the PC version, though.
In Prototype 2, Manhattan is once against infected by the Blacklight virus. Sgt. James Heller returns from deployment overseas to find his family dead from infection. He sets out on a suicide mission to kill Alex Mercer, the source of the virus. In the process, he becomes infected and gains many of Mercer's shape-shifting abilities.
Prototype 2 feels like a super hero sandbox game. Your super speed and strength allows you to jump and climb through New York like it's your personal jungle gym. You can also turn your arms and legs into deadly weapons. You'll need all of these powers at your disposal because you'll have to fight mutants, the military and Mercer himself.
If you pre-ordered the game, or simply buy it soon, you'll get a free upgrade to the RADNET Edition. The RADNET Edition of Prototype 2 gives players access to 55 pieces of DLC that will be released over the next two months. The content, delivered on a weekly basis, will include in-game events, dynamic themes, bonus mutations and more. Players who participate in all of the RADNET challenges and events will get access to the Alex Mercer skin, so you can relive the days of the first Prototype.
The PC version will debut in North America on July 24th and Europe on the 30th.
Your Daily Blend of Entertainment News
Staff Writer at CinemaBlend.
Your Daily Blend of Entertainment News
Thank you for signing up to CinemaBlend. You will receive a verification email shortly.
There was a problem. Please refresh the page and try again.