Pulsewave 2 And X-Wave Gaming Headsets For Frugal Gamers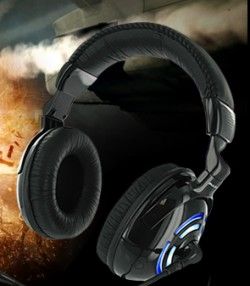 TekNmotion recently announced that two of their high-end headsets for game consoles and PC have been released to the public. The Pulsewave 2 and X-Wave are currently available at fine retailers and both of them retail for well under $100. That's pretty good pricing considering what they feature.
According to the press release…
Both headsets feature microphone output and ergonomic designs suited for both hardcore PC gamers and coach-prone console fanboys. No need to worry about features and quality, a full fact sheet for both the Pulsewave 2 and X-Wave can be viewed below. Need more information on both headsets or other TekNmotion products? Feel free to visit the Official Website.
X-Wave Gaming Headset features include:
• 5.1 channel headset
• 8 speakers (4 in each earpiece)
• Digital, in-line volume control
• High-end amplifier
• Independent, illuminated volume adjustment for each channel and master volume
• Detachable microphone with Quick-On connection
• Supports Dolby Digital 2.0, Dolby Digital 5.1 and Dolby Pro Logic
• Supports the chat function of PS3, Xbox and Xbox 360
• Dynamic Range Control
Compatibility:
• PC / MAC / other sources: Analog input via cable adapter
• PC / MAC: Optical input with USB or analog microphone input
• Xbox / Xbox 360: Optical input with 2.5mm microphone connection
• PS2 / PS3: Optical input with USB microphone connection
• DVD / other sources: Optical input
PulseWave 2 features include:
• USB 2.0 connector for 7.1 virtual surround sound
• 3.5mm stereo audio jack connector
• Speaker diameter of 50mm
• Dynamic Master Control w/ shirt clip
• Sonic Force Feedback vibration effects
• Blue, green and red pulsating Lights
• 9.5 feet (2.8m) connector cables
• Detachable noise-canceling microphone
• Padded leather headband and ear cups
• Adjustable fit
• External battery pack w/ Velcro strip
• C-Media 108 USB 7.1 audio drivers
Compatibility:
• Windows XP, Vista and Win 7
• Works with iPod, other MP3 Players
Your Daily Blend of Entertainment News
Staff Writer at CinemaBlend.