Raven's Cry, Open-World Pirate Game Coming To PS3, PS4, PC, Xbox 360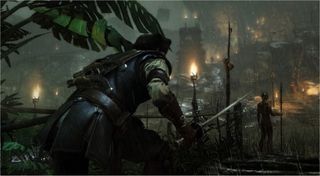 Topware Interactive and Reality Pump's Raven's Cry is set to arrive on old-gen consoles and current-gen consoles this fall, beginning October 14th.
Red Bull has an extremely impressive article detailing just about every important aspect of the upcoming pirate game from the Polish studio's CEO, Tadeusz Zuber. They discuss just about every facet of the game's potential, including being an open-world, role-playing game that features classic sword-and-board pirate battles, as well as unconditional open-sea naval battles.
Zuber discussed at length with Red Bull all of the game's highlights, including how they plan to separate themselves from Ubisoft's illustrious outing from last year, Assassin's Creed IV: Black Flag, with the CEO saying...
In addition to having a much more aggressive and dangerous protagonist, the team is taking a vastly different approach to the way naval battles take place.
According to Zuber, the team has slowed down naval combat to be a lot more realistic, where turning, speed and firing weapons happen in a more paced and methodical manner, almost like real life. How well will this turn out? No one will really know until it's finished. But the concept of a more simulation-oriented naval combat aspect seems like a nice diversion from the typical, arcade-style ship battles present in other games like Assassin's Creed or Pirates of Black Water.
Ship customization and upgrades will also be made available, so players will be able to modify the hull, change various colors and equip various types of weapons on the boat.
As for the game itself, it's a tale of murder and revenge, with Zuber noting that...
The game will also feature various forms of combat, including the typical hard-nosed combat and swashbuckling we come to expect from pirates, along with stealth-oriented combat that allows players to take down enemies without making a sound.
Given that this is another cross-generational title, unlike Assassin's Creed Unity, it's hard to tell how well the final product will come out and whether it will take advantage of the PS4's capabilities. Oh yeah, and there's no Xbox One version in the works nor is there a Wii U version. The latter of the two was purposefully left out due to time constraints and given that the Wii U requires a lot more effort than the other consoles due to its non-traditional hardware configuration.
Raven's Cry is due for release on the Xbox 360, PS3, PS4 and PC on October 14th. You can learn more by visiting the official website.
Your Daily Blend of Entertainment News
Staff Writer at CinemaBlend.