Red Faction: Guerrilla Demons Of The Badlands DLC Released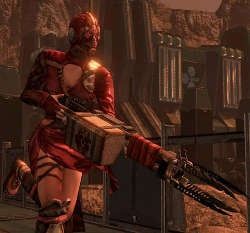 Today the first expansion to Red Faction: Guerrilla, Demons of the Badlands, was released through Xbox Live and PSN. The 800 MS Point ($10) DLC adds a new prequel campaign to the sand-box action game.
Demons is set several years before the events of Guerrilla. Players control Samanya, a member of the Marauders who must lead a revolution against the Earth Defense Force. The expansion brings a new zone (the Marina Valley), 7 new weapons (such as the Spiker machine gun and Marauder Missilepod) and 3 new vehicles (one of which is the Punisher walker). There's also ten new Achievements/Trophies to reward you for your efforts.
This is the first of three expansions planned for Guerrilla. The next two will focus on the Multiplayer and Wrecking Crew game modes.
Staff Writer at CinemaBlend.
Your Daily Blend of Entertainment News
Thank you for signing up to CinemaBlend. You will receive a verification email shortly.
There was a problem. Please refresh the page and try again.