Red Faction: Guerrilla Quintuple XP Weekend Announced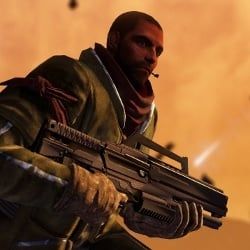 Volition's trying to pull everyone back into Red Faction: Guerrilla's multiplayer this weekend. Online matches for the PS3 and Xbox 360 versions of the game will earn you five times the normal amount of XP.
The quintuple XP will make it a lot easier for you to earn the high-end Trophies and unlockable items. "For the Achievement/Trophy Hunter in all of you, it's now easier than ever to earn 50 points or get that Gold trophy for 100,000 XP. If you're feeling adventurous, you can push on a little farther and obtain 120,000 XP in order to obtain the legendary Ostrich Hammer," explains the announcement on the Red Faction: Guerrilla blog.
The "Get Your Ass Back To Mars" weekend begins tomorrow and runs until Monday, December 21st. All this week, Volition intends to give out free download codes for RF:G DLC. They'll be doled out via the official Red Faction Twitter account.
When I reviewed RF:G this summer, I thought the multiplayer was actually the strongest part of the game - well, aside from the massive explosions. You may have forgotten Guerrilla after being barraged with new releases this past couple months but it's worth at least a rent.
Side note: Is "Get Your Ass Back To Mars" supposed to be a Total Recall reference? If so, awesome.
Staff Writer at CinemaBlend.
Your Daily Blend of Entertainment News
Thank you for signing up to CinemaBlend. You will receive a verification email shortly.
There was a problem. Please refresh the page and try again.