Risen 2: Dark Waters Console Versions Receives Lengthy Delay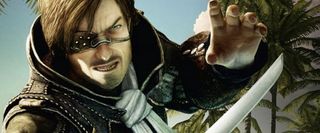 Deep Silver has announced its forthcoming action role-playing game, Risen 2: Dark Waters, has received a lengthy delay for its console versions. The PC version, however, will still stick to its intended April 27th release date.
The publisher unveiled that the Piranha Bytes-developed sequel will now launch on the PlayStation 3 and the Xbox 360 during the summer. Risen 2: Dark Waters will release on both platforms on July 31st within North America while Europe receives the game on August 3rd.
PS3 and Xbox 360 gamers will get a consolation prize for the delay. Deep Silver said the console version will include the episode "The Air Temple". It's apparently "several hours" long. The episode will see heroes trying to locate the lost temple, the apparent source of "air magic."
Risen 2: Dark Waters sees players experiencing the Inquisition sending out a hero in order to embark on a mission to locate a remedy against massive sea creatures. The creatures have posed a problem to the Inquisition as they're becoming intrusive to the shipping lines, consequently halting the islands' supplies they would have otherwise received.
Gameplay elements, meanwhile, sees the deliverance of players being able to utilize firearms -- a series' first. In addition, skills entitled 'Dirty Tricks' have been implemented which allows players to either confuse or attack enemies during combat.
When Risen 2: Dark Waters's PC version launches next week, it will be released exclusively via digital distribution in North America.
Your Daily Blend of Entertainment News
Thank you for signing up to CinemaBlend. You will receive a verification email shortly.
There was a problem. Please refresh the page and try again.