Rocksmith Bundled With Les Paul Guitar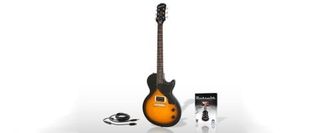 Rocksmith aims to teach players how to play a real guitar. It makes sense, then, that the game would be sold with a real guitar. Ubisoft and Gibson Guitars are teaming up for a special $199.99 bundle of the game.
The bundle includes a copy of Rocksmith, an Epiphone Les Paul Junior guitar, and the Rocksmith Real Tone Cable. The Real Tone Cable converts a guitar's signal from analog to digital. It allows you to plug any guitar with a 1/4" jack into your PS3, Xbox 360, or PC.
If you've already got your own guitar, you won't have to buy the bundle. You can pick up the game and Real Tone Cable for $79.99 as well. Both the standard edition of the game and the Les Paul bundle will be available this fall.
Rocksmith lets you play along with dozens of songs both old and new. Ubisoft has announced almost thirty songs for the game thus far.
Image 1 of 1
Staff Writer at CinemaBlend.