Rollers Of The Realm PS4 Trailer Shows Off RPG/Pinball Hybrid's Puzzles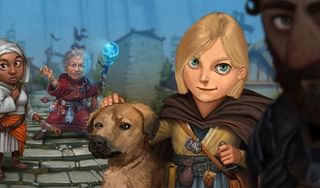 According to Atlus, all you need to make an entertaining RPG experience is some fun characters, interesting dungeons to explore, magic and gear to collect, and balls. Pinballs, to be exact, as the publisher has revealed a new "Puzzle Trailer" for its upcoming dungeon-diving/pinball hybrid, Rollers of the Realm.
Coming from the team at Phantom Compass, Rollers of the Realm is heading to the PlayStation 4 and PlayStation Vita as a cross-buy title for 10 bucks in the not-too-distant future. In order to prepare would be explorers for this intriguing adventure, a new trailer and details were today posted on the PlayStation Blog.
In my eyes, this could turn out to be one of those peanut butter and jelly situations, combining two things that are already great in their own right in order to make something that's equally entertaining, yet wholly new. Roleplaying games have never really gone out of style and, these days, virtual pinball is seeing something of a renaissance. Zen Studios has been wowing pin-heads for years now with their original tables and others that are based on various other IPs like Plants vs. Zombies and The Walking Dead, and Farsight's The Pinball Arcade has been churning out digital representations of actual tables on a regular basis.
According to Atlus PR Manager John Hardin, combining those two genres made perfect sense, the result of which has evolved into Rollers of the Realm. Hardin mentions several key RPG factors that have made it into the game, including a full party of adventurers who are designated by their own balls within the game.
"For example, your Rogue — who can steal gold from villagers or deal backstab damage on foes — is the lightest pinball in your arsenal and can be used to squeeze through tight spaces to unlock hidden areas," Hardin explains. "In contrast, there is the larger, heavier, drunken Knight who is less… accurate, but can smash through boxes or other barriers to allow access to new areas on the board. Oh, and his massive size makes it easy for him to bowl over foes, and since he's a knight, his special ability protects the gutter areas, preventing any pinball from falling."
In order to be most effective, you'll actually need to switch between your party members on the fly, bringing in the hero best suited to dynamic events as they occur on the screen.
Each level (aka, board) will also boast a hidden treasure chest that, of course, requires a special key to unlock. John Hardin promises that these bundles of loot will be tricky to unlock, but that the rewards will be worth it.
Look for Rollers of the Realm to arrive on the PS4 and Vita this November.
Staff Writer for CinemaBlend.
Your Daily Blend of Entertainment News
Thank you for signing up to CinemaBlend. You will receive a verification email shortly.
There was a problem. Please refresh the page and try again.