Sacred 2: Fallen Angel Creature Battling Screenshots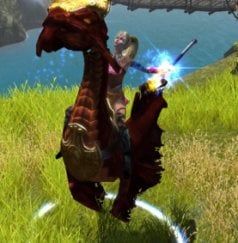 New screenshots have just been released by CDV for their upcoming hack-and-slash, action-RPG, Sacred 2: Fallen Angel. The game is quickly approaching its release date of March 24th, and CDV is definitely making sure that gamers know exactly what's in store for them.
So far we've seen some new screenshots for the Xbox 360, some new screenshots for the PlayStation 3, and now we're just seeing some new screenshots. The theme is apparently mounted-battles, because most of them consist of characters riding on tigers or horses and taking the fight to the enemy. I'm definitely not complaining, given that a lot of games get mounting all wrong (I'm looking at you Two Worlds).
You can check out the new screenshots below, or visit the Official Sacred 2: Fallen Angel Website for more information about the game. Honestly, all you need to know to get psyched about this title is that it features cooperative modes online and lots of non-stop action and adventure. Anyway, be sure to stay tuned in with Blend Games for more news and info regarding all things gaming.
Image 1 of 9
Image 2 of 9
Image 3 of 9
Image 4 of 9
Image 5 of 9
Image 6 of 9
Image 7 of 9
Image 8 of 9
Image 9 of 9
Staff Writer at CinemaBlend.