Sacred 2: Fallen Angel Has Gone Gold For Xbox 360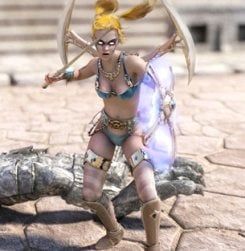 It may be a multiplatform title for the PC, PS3 and Xbox 360, but Sacred 2: Fallen Angel has been promoted for each platform in a very separate manner. Perhaps it's because not all platforms were created equal and, hence, not all games can be designed (or go gold) equally for said platforms.
If a game goes gold, it means that the game is finished and done on the design and development front. It also means that it's approaching the manufacturing and distribution phase of the game-creation process. So for the Xbox 360 version of Sacred 2: Fallen Angel, it has reached the development milestone of going gold…not so much for the PS3 version, which was surprisingly absent from the press release.
Nevertheless, gamers can gear up for Sacred 2: Fallen Angel, the action-RPG for the Xbox 360 when it launches on May 12th. The game features all kinds of magical and melee skills for the available classes in the game. You can learn more about the title by visiting the Official Website.
We'll keep you posted on when the PS3 version of the game finally goes gold (which should be soon). Until then, be sure to stay tuned in with Blend Games for further news and updates regarding all things gaming.
Your Daily Blend of Entertainment News
Staff Writer at CinemaBlend.