Section 8: Prejudice Expanding With Frontier Colonies Map Pack, Skirmish Mode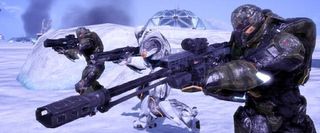 This month TimeGate Studios will be adding new content to their downloadable shooter Section 8: Prejudice. They have both premium and free DLC planned for release.
The Frontier Colonies Map Pack, priced at $3.99, adds new maps for your online or offline battles. "Desolation" takes place on a desert world with ruins of a failed colony. "Overseer" features military facilities looking down on a forest valley. Both maps support all multiplayer modes, including Conquest, Swarm, Assault and Skirmish.
Wait, what's Skirmish mode? Well, that's the free DLC they're going to release. The 8th Armored Infantry and Arm of Orion face off in a team deathmatch. Players earn Victory Points by killing enemies or completing missions. Control Points can't be captured or hacked.
Skirmish mode will be the second mode added to the game since its debut in April. The first was Assault, which arrived at the end of May. Like Skirmish, Assault is free to download.
The Frontier Colonies map pack will be released through Xbox Live Arcade on July 13th and on the PC on July 27th. The Skirmish mode will arrive on the PS3, Xbox 360, and PC later this month. The game's yet to be released through PSN but TimeGate plans to make an announcement about that soon.
Prejudice is the download-only sequel to retail release Section 8. It's a futuristic shooter in which players wear armored suits that let them fly through the air or race along the ground at high speeds. After they die, they spawn by dropping in from orbit. Players can also call down vehicles and turrets by earning Requisition Points they've earned through the match.
Staff Writer at CinemaBlend.
Your Daily Blend of Entertainment News
Thank you for signing up to CinemaBlend. You will receive a verification email shortly.
There was a problem. Please refresh the page and try again.