See 15 Minutes of Dying Light's Latest Expansion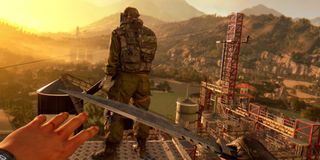 Techland's upcoming Dying Light expansion, The Following, is rife with story and other elements that fans will no doubt want a part of.
The $14.99 DLC offering was put on display today with an uncut 15 minutes of gameplay that detailed what players might see within the confines of the downloadable episode, and it certainly didn't disappoint.
The Techland team works on a quest called "The Trust Is Out There" in the video, so you get a feel for what you might actually be doing in The Following and how the story will unfold. Because you're watching Techland play Dying Light, you also get some additional commentary to work with, so if you had questions you might just see them answered here.
The Following is a very large add-on to Dying Light that features new story missions that take place out of the main setting of Harran as well as a new map that takes place in the outback. There are a swath of new additions like dirt buggies with their own unique skill trees, ranged weapons, and a ton of other augments that will likely get you back into Dying Light for some time, or at least until another zombie game shambles along.
That could be quite a while, at least for games like Dead Island 2, which went through an entire developer change. We're still awaiting news on who may have taken over, but there's no updates on that as of yet. There's room right now within the industry for a new zombie game king, and it wouldn't take much to get started down that path. Dying Light is an example of how to do it correctly, but there are other franchises that could follow suit. Techland could even step in and make Dead Island 2 much improved if they took the same path they did with Dying Light, but that's a bit of an improbable outcome now, apparently.
If you're interested in The Following, check out the 15-minute video and get ready to slay some more zombies. Still yet there's no mention of a concrete release date, but you can bet it'll be coming up soon given how rapidly Techland is sharing new content and information about the impending DLC. Hopefully it doesn't land right in the middle of the fall gaming season, which already finds us contending with Mad Max, Metal Gear Solid V: The Phantom Pain, Call of Duty: Black Ops III, and more. It'll be tough to clear off all our plates for all this gaming goodness in store.
Your Daily Blend of Entertainment News
Your Daily Blend of Entertainment News
Thank you for signing up to CinemaBlend. You will receive a verification email shortly.
There was a problem. Please refresh the page and try again.