See The New Dying Light: The Following Maps That Were Just Released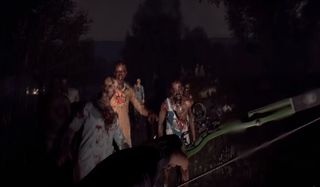 Dying Light: The Following just keeps getting better and better since its release at the end of January, and now developer Techland has added four community maps. You can check out these maps in more detail in the trailer below.
The four new community maps being added to Dying Light: The Following, as seen in the video, are Under The City, Climb Down, The Hunter and TeeVee. I think the most puzzling out of all of the announced maps is the TeeVee map, which as you can see depicts some strange additions to the map involving the all-too-familiar white noise picture on a TV.
Under The City is described by Techland as being a choice-based horror adventure, so the outcome of what happens will be heavily influenced by the choices the player makes.
Climb Down is supposed to be parkour-based, The Hunter map takes place in a forest and is heavily reliant on survival and TeeVee looks like it was intentionally made to really trip you out. Techland describes TeeVee as "a visual nightmare."
I haven't had the chance to pick up Dying Light yet strictly because I am really over zombie games. They were unforgettable in the Resident Evil series and I even enjoyed The Walking Dead from Telltale Games, but I just am so sick of seeing zombies on TV, in games and in books that it's hard for me to want to pick it up. It's almost like I am so desensitized to zombies that they hardly scare me anymore—and I am a real fear addict. I guess zombies just aren't giving me that kick I crave. But I can say the more I write about Dying Light and learn about it, the more I want to play it. And with the addition of these new maps (for free), it could just happen in the near future.
You can get these new maps on the PS4, Xbox One or PC when you download the latest patch. The patch itself will help with bugs and stability and tweak balances. For more information, please visit the official Dying Light website.
Your Daily Blend of Entertainment News