Sega Could Be Making Another Valkyria Chronicles Game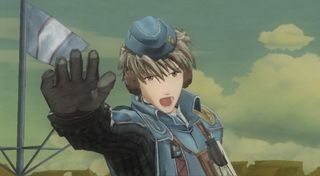 Continually hailed as one of the most underrated games of the seventh generation of gaming, Valkyria Chronicles may be getting some loving from Sega. The series has never been real big on sales but new info indicates that a new game could be inbound.
Gematsu is reporting that Sega has filed a trademark for "Valkyria of the Blue Revolution" in Japan. The Katakana translation for the title is "Aoki Kakumei no Valkyria".
It could be possible that this is something completely separate from the Valkyria Chronicles franchise, but it seems really unlikely that Sega would trademark a name for a game with Valkyria in it after having already produced three games in the franchise, one for the PlayStation 3 and two for the PSP. Recently the publisher also ported over the original PS3 JRPG to PC on Steam, giving PC gamers an opportunity to play the turn-based, action-RPG for the very first time.
The original Valkyria Chronicles was not a big seller but it was a sleeper hit. It was set in an alternate World War II and had a very unorthodox, active, turn-based battle system. It was a unique hybrid, a little bit similar to Resonance of Fate. Unfortunately the game never really caught on despite it being popular amongst gamers and critics alike.
The franchise had some extended shelf life on the PSP, but given the ill-fated popularity of Sony's handheld it was easy to imagine what happened there.
With Sega grabbing a new trademark for a Valkyria game it has instantly put a lot of fans and gamers in speculation mode, wondering exactly what Sega has planned for the series?
Some gamers suspect that this is a mobile-oriented game since Japan has a very robust mobile market and games have the potentiality of selling like crazy on smart devices. However, putting games on mobile phones doesn't always guarantee that they will sell. Some publishers have learned the hard way that simply putting a game on a phone doesn't instantly generate revenue.
I could easily see a console-oriented JRPG title like Valkyria Chronicles not doing so great on mobile devices since the games aren't easy to pick up and play like Candy Crush Saga or Bejeweled.
For now gamers are just left to speculate about what Sega plans to do with the series and whether or not anything will come out of it.
We've seen a big shift recently from many Japanese publishers focusing more on gambling machines and mobile titles. Konami is one of the other high profile publishers who just canned Silent Hills, much to the chagrin of many fans and cinaphiles alike given the involvement of movie director Guillermo Del Toro and actor Norman Reedus.
Some publishers, however, have been playing up their reputation with their niche fandom, such as XSeed Games and Atlus, both of whom have been putting out some really interesting content lately. Whether or not Sega will opt to make another Valkyria Chronicles game on home consoles is completely up in the air, but there is a sizable niche who would most readily support them if they did decide to do so.
Staff Writer at CinemaBlend.