Sengoku Basara: Samurai Heroes Release Date Announced For PS3, Wii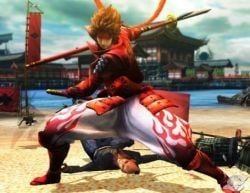 Capcom hasn't forgotten about you Sengoku Basara anime fans, the game that looks identical to Dynasty Warriors but isn't Dynasty Warriors will be released this fall for the PS3 and Wii.
As stated in the press release…
In other words, it's a historic Japanese version of the famous Dynasty Warriors, thousand-army battle system. The names of the characters have changed but the combat and tactics have pretty much stayed the same. Still, if you can't get enough of hacking and slashing on mindless enemy AI with some fruffy-haired, high-tech looking anime swordsman then you'll probably love Samurai Heroes.
Sengoku Basara: Samurai Heroes is scheduled to release on the Nintendo Wii and PlayStation 3 beginning October 12th of this year. Need a little more info on the game? Be sure to visit the Official Website.
Your Daily Blend of Entertainment News
Staff Writer at CinemaBlend.