Sennheiser Special Edition PC 350, PC 360 Headsets Announced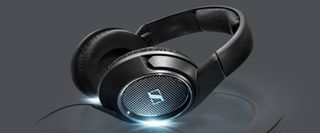 Sennheiser has re-engineered and released the special edition of the PC 350 and the PC 360 headsets. During this year's Consumer Electronics Show Sennheiser unveiled that they would be upgraded, enhancing and making their best line of headsets available in a much better grade with a much higher standard of quality.
The PC 350 is geared toward the pro gamer who needs comfort and audio contained within the listening environment. The headset captures and retains 95% of the generated sounds traveling through the speakers and enables it so that anyone around the immediate area can't hear a thing. As stated by Sennheiser, this is labeled as being perfect for LAN events or gaming tournaments...or if you're in a small apartment and you want to crank the volume up by 1000%.
The PC 360 is a slightly different beast. While the headset maintains audio control over the listening environment, dampening out any sound leaks, it also sports Dolby Digital 7.1 Surround Sound effects with Dolby Pro Logic IIx, so you get both a controlled and a high quality listening experience. The additional open-acoustics design also enables air-flow so you it prevents your head from feeling suffocation.
Both headsets are aimed at gamers looking for something durable and high quality and could be worth the price of admission. You can learn more about the Sennheiser PC 350 and PC 360 3D Surround Sound headsets by visiting the Official Website.
Staff Writer at CinemaBlend.
Your Daily Blend of Entertainment News
Thank you for signing up to CinemaBlend. You will receive a verification email shortly.
There was a problem. Please refresh the page and try again.