Sexy Adventure-Horror Game, Catherine, Now Available For Xbox 360, PS3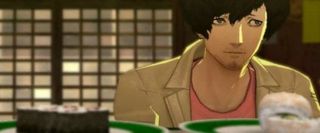 After receiving a ton of buzz after the Japanese debut trailer hit the net-waves, Atlus was quick to pick up the U.S. publishing rights for this off-the-center adventure-horror-puzzle title. Well, after a few delays and a ton of titillating trailers later, Catherine is now available for the Xbox 360 and PS3.
The game is about a fop named Vincent who falls for a chick named Catherine. The only trouble is that Vincent already has a girlfriend named, Katherine. The entire thing kicks into high-gear when Vincent wakes up next to Catherine with an extreme hangover. Players are then tossed into a horrific series of events fueled by Vincent's ever escalating guilt and his fear of a long-term commitment.
Catherine takes a very different approach to the thrills of reaching the end-game…for once the world isn't at stake, there's no invading aliens, no terrorists, no serial killers to catch, no monsters, no zombies and no gunplay. This puts players in a very peculiar setting that many developers rarely explore and most publishers are afraid to support.
If you're interested in a mature, quirky, horror-themed, romantic, puzzle-adventure game, you can check out Catherine which is currently available for the Xbox 360 and PS3 for only $59.99. A collector's edition is also available for $79.99. Need more info? Feel free to check out the Official Website.
Your Daily Blend of Entertainment News
Staff Writer at CinemaBlend.