Sixty Minutes Of Counter-Strike: Global Offensive Gameplay Footage Released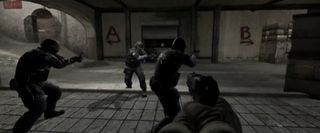 At the Intel Extreme Masters Global Challenge, a team of Europeans faced off against a team of Americans in a Counter-Strike: Global Offensive match. Intel had the good sense to record the match and post it on the Internet.
The teams battle it out on the "de_dust2" map for about an hour. This map is played in "Defusal" mode. A team of Terrorists must plant a bomb at one of two sites. In order to win the round, the Counter-Terrorists must prevent the bomb from being planted until time expires or, failing that, defuse the bomb. Either team can also win by simply wiping out all their opponents.
Counter-Strike: Global Offensive will have a mixture of old and new maps and odes. Matchmaking and leaderboards will be supported as well. Cross-platform multiplayer is supported for the PS3, PC, and Mac. The PS3 edition can also be played with Move.
Valve, who is co-developing CS: GO along with Hidden Path Entertainment, plans to release the game in early 2012.
Staff Writer at CinemaBlend.
Your Daily Blend of Entertainment News
Thank you for signing up to CinemaBlend. You will receive a verification email shortly.
There was a problem. Please refresh the page and try again.