Skylanders Just Totally Changed The Toys To Life Market With This New And Creative Expansion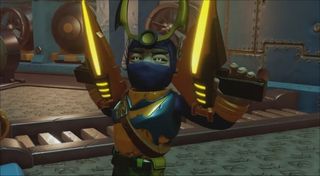 Activision isn't giving up on Skylanders. The toy-to-life genre still has some life and despite Disney Interactive completely shutting down their publishing wing and canceling Disney Infinity, Activision will push forward with the genre with a renewed zeal.
Engadget is reporting that starting October 14 in Europe and October 16 in North America, gamers on the Xbox One, PS4, PS3, Xbox 360 and Wii U will be able to experience the next adventure in the Skylanders series, appropriately called Skylanders Imaginators.
So why is it an appropriate name for the 3D action-adventure title? Because this newest game is all about exploring the imagination of the user. Players will no longer rely on buying figurines and bringing them to life in the virtual world, they will instead create their own virtual heroes using parts and pieces to cobble together a completely unique adventurer. There's a short minute long trailer that gives you an idea of what the character creation is capable of, and how players will be able to make their very own Skylander.
Players can mix and match parts between different kinds of beasts and characters, allowing players to make males, females, robots, mutants, aliens and everything else in between. Instead of buying toys to upgrade or enhance characters, players will need to buy real life "Crystals" to enhance and upgrade their custom creations.
It's a very creative approach to the Skylanders property, for which many believed had become stale and over saturated.
Despite the sales for the last outing in the series not being that great due to Disney Infinity eating heavily into the property's market share – in large part thanks to the release of Star Wars: The Force Awakens and the accompanying toys that were released for the property – Activision feels as if they can still use a reinvigorated approach to the Skylanders property to make a sales force to be reckoned with.
Speaking with Time, Activision CEO Eric Hirshberg explained that despite the latest games falling below the marginal expectations, it's still one of the biggest video game brands on the market today and that they would not be following behind Disney's lead and exiting the toy-to-life market, saying...
It's actually pretty smart of Activision given that Disney wiped themselves out of the market, leaving Activision's only major competition being Lego Dimensions. If sales are still down this fall for Skylanders then they should be worried, but by Disney exiting the toy-to-life market it leaves Activision in a position to fully capitalize on it this fall.
What would be really devastating to Disney is if Activision actually posts massive profits from Skylanders Imaginators, proving that maybe a little ingenuity and innovation is all the genre needed to get back on track. If the opposite happens then Disney can sit back and laugh at having exited the market at an opportune time. We'll find out just how well the game will do once it launches this October for the Xbox One, PS4, Wii U, PS3 and Xbox 360.
Staff Writer at CinemaBlend.
Your Daily Blend of Entertainment News
Thank you for signing up to CinemaBlend. You will receive a verification email shortly.
There was a problem. Please refresh the page and try again.