Skyrim DLC Details, Kinect Patch Coming Tuesday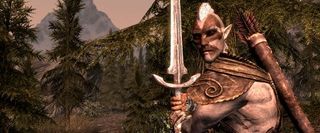 Elder Scrolls V: Skyrim players have two big reasons to be happy tomorrow. Bethesda will be releasing the patch to add Kinect support to the Xbox 360 version. They'll also be providing the first information on the game's DLC.
The Kinect patch will add over 200 voice commands to the open-world RPG. Players will be able to use Kinect's voice support to cast dragon shouts or other spells. They'll also be able to issue orders to their companions. The game's labyrithine menus can be navigated by voice, too. Consult this PDF for a full list of commands.
While we'll get some information on the DLC on Tuesday, Bethesda says it won't be an extensive announcement.
"Tidbit of info. Not a complete dload of info. Managing expectations," tweeted Bethesda's Pete Hines.
Regardless, expectations will be high for the DLC. Bethesda previously said that there would be a small number of DLC packs but they'll be "substantial." Many expect Bethesda to release expansion packs, similar in size to Elder Scrolls IV: Oblivion's Shivering Isles and Knights of the Nine add-ons.
It's possible that we already know everything they plan to reveal tomorrow. Last week a fan poked around in the latest patch files and uncovered some possible details on the DLC. They spotted some mention of snow elves and crossbows. Considering I play an archer in Skyrim, the news warmed my heart.
Perhaps Bethesda will mention when we should expect the DLC, though. I'd hope it's arriving soon, as it's been five months since Skyrim's launch. The DLC will be arriving on the Xbox 360 a month before it hits other platforms due to an agreement between Microsoft and Bethesda.
Update: Bethesda has announced the first DLC. It's called Dawnguard and will debut this summer.
Staff Writer at CinemaBlend.
Your Daily Blend of Entertainment News
Thank you for signing up to CinemaBlend. You will receive a verification email shortly.
There was a problem. Please refresh the page and try again.