Sleeping Dogs Slow-Motion Mod Turns Wei Shen Into Neo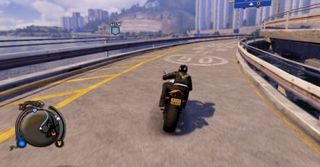 United Front Games has openly welcomed mods for Sleeping Dogs. While the game still supports DLC, the developers still encouraged PC gamers to explore any and all possibilities with Sleeping Dogs so long as it didn't result in promoting piracy. Well, one mod for Sleeping Dogs gives the game a bit of a Matrix makeover with some slow-motion.
The forum administrators over on the Sleeping Dogs forums keep track of completed mods and listed a few, including the new SLOMO mod from modder MxSmack.
The mod can be trigged in one of two ways. There are two exe files that you can run after you boot up the game. The first exe is the 10-second SLOMO mod; this version of the mod only allows you to trigger slow-motion effects for 10 seconds at a time. The second exe included is an unlimited slow-motion mod, where it can be triggered and the effect stays on indefinitely.
If you wanted to slow down fight scenes or give the game a certain kind of cinematic look when you're making videos or recording, then this mod would be a great addition to the play experience. The nice part about it is that installing mods for Sleeping Dogs is pretty easy and only requires unzipping the contents into the directory with the main game. And yes, the mods are compatible with Steam.
If you want to add the slow-motion effect to your play experience in Sleeping Dogs just head on over to the Sleeping Dogs forum and grab the download file.
Your Daily Blend of Entertainment News
Staff Writer at CinemaBlend.