Spec Ops: The Line's Free Co-Op Mode Available Now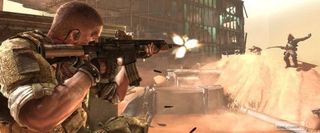 If you've already sucked all of the marrow out of the single player campaign for Spec Ops: The Line and the multiplayer modes just aren't holding your attention like they used to, then you might be interested in the game's free co-op missions which, according to publisher 2K Games, is available right now for Xbox 360, PlayStation 3 and PC.
In Spec Ops: The Line, players take on the role of Captain Martin Walker as he slowly descends into madness on a quest to rescue Colonel John Konrad and his squad, the Damned 33rd, from the sand-wrecked city of Dubai. A third-person military shooter, the game features all of the shooting from cover you could hope for, complemented by the unpredictable element of raging sand storms.
The newly released co-op missions take place in the same settings, giving players a series of unique objectives to be completed in four scenarios. Each mission has its own goals, environments and playable characters in new gameplay that emphasizes teamwork for two players.
Love it or hate it, co-op is something that pretty much comes standard in modern shooters, which made its original absence from Spec Ops: The Line all the more noticeable. Developer YAGER spent the past few months putting the final touches on the two-player offering, however, and now it's ready for prime time. Even cooler is the fact that 2K Games has elected not to charge a penny for these extra missions. If you already own (or plan to buy) Spec Ops: The Line, then you get these four new levels free of charge.
2K had better be careful, though. If these kinds of business practices become common place in the land of $5 costume packs, they might very well undo our fragile reality. The reaction on gaming forums would, at the very least, implode the internets.
Your Daily Blend of Entertainment News
Staff Writer for CinemaBlend.