New SplatterHouse Screenshots And Trailer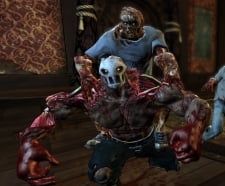 What better way to kick off your trick or treating, than with a new trailer of Splatterhouse? And more importantly, who knew this game would be put on the list of remakes? I'm not complaining. We just don't have enough violent, overly-gory games on the market, anyway.
The game is far off from its release, as it's scheduled to hit shelves in 2009. However, Namco-Bandai has decided to treat gamers with a glimpse into this remake, with a few new screenshots and a terrifying new trailer. The plot is the same as usual, with players taking control of college student, Rick Taylor. When his girlfriend gets captured the only way to get her back is to put on a "Terror Mask".
I'll be the first to admit that it looks like Rick is on SVS (i.e., Super Violent Steroids). But I guess he needs to be in order to face off against the hordes of ghastly monstrosities featured in this game. The real sick feature of this game is Rick's health meter...there is no health meter. Rick dies when he dies. By this, I mean that if the zombies and creatures tear Rick to shreds, then he dies. That's it. Players can gauge their status simply by the appendages Rick is missing, or the chunks of flesh and bone that are ripped from his body. It's some messed up stuff. But the "Terror Mask" regenerates Rick's body, so it's not like he has to stay mutilated throughout the entire game.
You can check out the media below, and you can look for the game to appear on both the Xbox 360 and PlayStation 3, next year. Be sure to stay tuned in with Blend Games for more news and updates.
Image 1 of 5
Image 2 of 5
Image 3 of 5
Image 4 of 5
Image 5 of 5
Staff Writer at CinemaBlend.
Your Daily Blend of Entertainment News
Thank you for signing up to CinemaBlend. You will receive a verification email shortly.
There was a problem. Please refresh the page and try again.