Square Enix Predicts Extraordinary Loss, President Yoichi Wada To Resign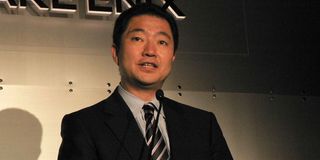 Square Enix's president and representative director Yoichi Wada will be stepping down. The company announced the resignation on the same day that they predicted "extraordinary loss" in the current fiscal year.
Wada joined Square in 2000. During his time as president, he oversaw the merge of Square and Enix into Square Enix. The combined company made high-profile acquisitions in subsequent years, gobbling up Taito and Eidos Interactive.
The company had been expecting net income losses of ¥3.5 billion, or $37 million. Today they revised that estimate to ¥13 billion, or $137 million. The change was attribute to "sluggish performance" by its arcade machine business, as well as the less-than-expected sales of major console games in North America and Europe.
Sleeping Dogs, Hitman: Absolution and Tomb Raider were some of the "major console games" mentioned in the financial estimate. Absolution and Sleeping Dogs, both released in late 2012, sold 3.6 million and 1.75 million respectively. Tomb Raider, meanwhile, has sold 3.4 million since its release in early March. Those sound like impressive figures but apparently they were below Square Enix's projections.
Wada will step down from his position in late June according to Square Enix's notice to shareholders. Yosuke Matsuda will replace him. Matsuda, who joined the company in 2001, is currently serving as chief financial officer.
It's not clear how Square Enix's losses will affect their future plans. I'm hoping it doesn't affect any of their Western console development plans. I was promised a new Thief game, damn it.
Staff Writer at CinemaBlend.
Your Daily Blend of Entertainment News
Thank you for signing up to CinemaBlend. You will receive a verification email shortly.
There was a problem. Please refresh the page and try again.