Star Wars: Battlefront Takes The War To New Planet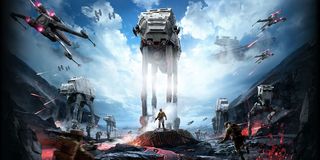 Star Wars: Battlefront will let players fight on the surface of Sullust, a planet not previously seen in the main series. Today the development team at DICE celebrated Star Wars day with a preview of this unforgiving world.
Sullust is home to the mouse-like Sullustans, who live underneath the lava-filled surface of the planet. You may have spotted a Sullustan in the recent trailer for the game. Another member of the race was part of the Millennium Falcon's crew during the Battle of Endor in Return of the Jedi.
It's unclear when the battle for Sullust in Battlefront is set. However, the Empire still has a foothold on the planet. They have bases across the surface from which they can launch ground troops and squads of TIE Fighters.
"We wanted to create a planet on our own, first trying out different ideas and then deciding on a lava planet with black sharp rocks, huge land shifts, red lava, turquoise lakes, and white smoke…everything to make it really colorful yet imposing and threatening," concept artist Anton Grandert said in the preview.
The development team went to Iceland to film reference footage for Sullust. The country's rocky terrain was used as a foundation to build an authentic Star Wars location. They created Imperial bases with designs reminiscent of the Death Star and carved rivers of lava through the landscape. DICE's hope, said lead environment artist Andrew Hamilton, is that the planet looks like "it could actually exist."
Sullust is one of 12 Battlegrounds that will ship with the game. Others include classic locations Endor, Hoth, and Tatooine. Jakku, a planet featured in upcoming film Star Wars: The Force Awakens, will be featured as well.
"Some of the maps support our epic modes like Walker Assault, while others are tailored to more intimate, close quarters combat," DICE said at the end of their preview. "Our goal is to bring a variety of battle fantasies to life."
In honor of Star Wars Day, the development team also released two images featuring Sullust. You can check them out below.
Image 1 of 2
Image 2 of 2
Staff Writer at CinemaBlend.