Street Fighter X Tekken Episode 2 Cinematic: Girl Fight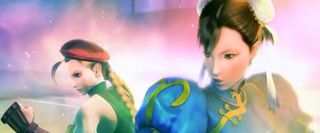 Four of the female fighters from the upcoming Street Fighter X Tekken go at it in a somewhat lopsided 2-on-2 fighter, with Cammy and Chun-Li taking on Asuka and Lili.
The cinematic is more-so just designed as fan-service as there is plenty of eye-candy on display, mostly with shots of Cammy's boobs and thong, with the final segment of the trailer giving male gamers plenty to gawk at.
Street Fighter X Tekken features large cast of characters from both Capcom's venerable fighting franchise and Namco's long-running 3D fighter. The explosive head-to-head showdown enables gamers to experience one of the greatest cross-branded bouts to ever happen in the world of video games, just short of the epic Capcom Vs SNK games.
You can pre-order the game now for special bonuses, including a comic book, arcade cabinet and more than 45 different gems. You can look for the game to land on store shelves beginning March 6th in North America and March 9th in Europe.
For further info on Street Fighter X Tekken be sure to pay a visit to the Official Website.
Staff Writer at CinemaBlend.
Your Daily Blend of Entertainment News
Thank you for signing up to CinemaBlend. You will receive a verification email shortly.
There was a problem. Please refresh the page and try again.