Street Fighter X Tekken: Gameplay Screenshots And Trailer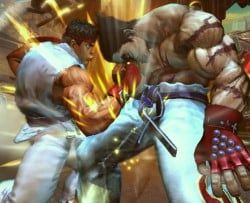 If you haven't heard already, Capcom is working on (yet another) fighting game crossover featuring heavyweight punchers, kickers and throwers from the likes of Street Fighter and Tekken. Unfortunately, the crossover is not based on proprietary technology and will not feature crossover features from both series. Instead, a select number of hand-picked Tekken fighters will be re-envisioned in the Street Fighter IV universe and running on the Street Fighter IV engine.
To help sell the new game, Capcom has unleashed a nice hefty helping of in-game screenshots and, of course, a follow-up announcement trailer to get fight-fans drooling over the upcoming game.
The screenshots are mostly composed of Kazuya (Tekken's main protagonist throughout most of the franchise's history) putting a serious beating down on Ryu (Street Fighter's leading main character alongside the lesser but equally recognizable Ken).
It's obvious the game is made for the appeal of Street Fighter IV fans. Maybe later on down the road they can come up with a more viable engine that supports some of the cool functionality from the Tekken 6 engine.
You can check out the new screenshots and announcement trailer below or visit the Official Website to learn a little more about this epic crossover fighter.
Image 1 of 20
Your Daily Blend of Entertainment News
Staff Writer at CinemaBlend.