THQ Has Been Sold Off, Saints Row, Homefront, Metro Last Light Find New Homes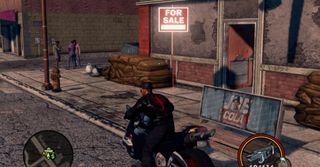 THQ has gone bust. The company that made waves during the PSX and N64 era with incomparably historic titles like WCW Revenge and one of the greatest wrestling games ever made, WWF No Mercy, has bit the dust. Finito. Finished. Nilled out. Zeroed into the ground. They got an asset enema that left them with zilch. The firm that scooped up THQ has decided to sell off their assets for an undisclosed amount in order to profit, no less.
According to Kotaku, Koch Media has picked up the IP rights to Volition's Saints Row and the Metro brand. Ubisoft has done gamers a service and swooped in to rescue Obsidian's South Park: Stick of Truth. Sega has gone the strategic route and nipped themselves something to round out their Total War stock and give Creative Assembly a tag team partner by bringing Relic Entertainment under their wing. Crytek has decided to finish what they started and purchase the Homefront license since they're already working on the game (makes sense). And Take-Two shuffled in like a flightless vulture and picked off the carcass of THQ before anyone else noticed, taking with them an unannounced next-gen title called Evolve.
As stated in a full letter from THQ's (now former) CEO and president...
The letter is quite lengthy and drolls on about the possible employment conditions and uncertainties that come along with liquidating assets in such a manner. If you're keen on reading the full thing, feel free to do so over on Kotaku.
Staff Writer at CinemaBlend.
Your Daily Blend of Entertainment News
Thank you for signing up to CinemaBlend. You will receive a verification email shortly.
There was a problem. Please refresh the page and try again.