Tekken 5: DR Is Now Tekken 5: DR Online For PS3 Owners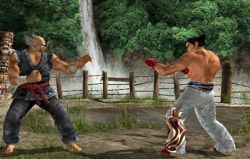 So it's already been an obvious news gem that Tekken 5: Dark Resurrection for the PSP has become PSN property for PS3 owners to download; high-def and everything else in between. But now, Namco Bandai has gone and sealed the deal, by announcing that Tekken 5, for the PS3, will soon have online compatibility for multiplayer gaming.
Tekken 5's highly anticipated online modes will include ranked matches, custom battles and online tournaments, to whet the appetites of gamers who just can't keep their hands from shaking, while waiting for Tekken 6. "It is beyond words how excited we are to finally be bringing our famous fighting franchise, TEKKEN, online for the first time," Makoto Iwai, Senior Vice President and COO of Namco Bandai said. "Not only is TEKKEN 5: Dark Resurrection Online a great value, but it now features the largest evolution in the franchise to date."
But the updates for Tekken 5 don't stop there, you can check out the new features and added bonuses for the game below.
Tekken 5: Dark Resurrection Online Features:
• Opti Match, Quick Match, Custom Match and Friend Match, making it easy to find opponents to fight with anywhere, anytime.
• Players will also have the opportunity to study their opponents by viewing battles in the lobby while waiting for their turn to conquer and trash talk each other via voice chat.
• The online update also includes two new single player modes, including Practice mode, where players can hone their fighting skills before battling online, and Survival mode, where players must use their superior TEKKEN skills to defeat as many opponents as possible, one after the other, in a fight to the finish.
Tekken 5: Dark Resurrection Online will be available later this year for the low price of $9.95, with Tekken 5: Dark Resurrection for the PS3 still going for the budget-price of $19.95. Both will be attainable through the PSN's PlaytStation Store. For more information you can visit Sony's Official Website or Namco Bandai's Official Website.
Your Daily Blend of Entertainment News
Staff Writer at CinemaBlend.