Thief 4 System Requirements Announced For PC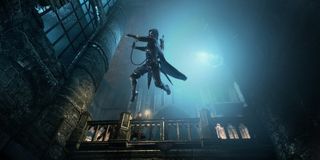 Eidos Montreal has announced the system requirements for the PC version of their Thief reboot. Garrett's new adventure has more polished graphics than its predecessors but it will be playable on a wide range of systems.
You can run the game even with a Radeon 4800 or GTS 250 video card. Those cards are about five to six years old at this point. The rest of the minimum requirements are similarly lax:
Minimum System Requirements
OS: Windows Vista with platform update
CPU: High-performance dual core CPU or quad core CPU
RAM: 4 GB
Graphics Card: AMD Radeon 4800 series / Nvidia GTS 250
DirectX: DirectX 10
HDD/SSD: 20 GB
Of course, if you want the most of the game's visuals, you'll need a much more powerful system. Eidos suggests having a GPU made in the past couple years:
Recommended System Requirements
OS: Windows 7 or 8
CPU: AMD FX 8000 series or better / Intel i7 Quad Core CPU
RAM: 4+ GB
Graphics Card: AMD Radeon HD / R9 series or better / Nvidia GTX 660 series or better
DirectX: DirectX 11
HDD/SSD: 20 GB
The game will utilize Radeon cards' advanced features like Eyefinity for multi-display set-ups and the Mantle API. If you're planning to buy a new AMD card, note that the company's currently running a "Never Settle Forever" promotion. Depending on what card you buy, you could get a copy of Thief for free.
Eidos Montreal enlisted the help of Nixxes Software in making the PC version of Thief. Nixxes was also responsible for the PC editions of Deus Ex: Human Revolution and Tomb Raider.
Thief is a stealth-action game set in a steampunk fantasy world. The player is Garrett, a master burglar who makes a living by robbing the rich of his city. He's no soldier so he has to take enemies by surprise or sneak past them altogether to complete his missions. Eidos considered adding more "modern" elements like XP progression and Quick Time Events but cut them to make the game closer to the traditional Thief experience.
Thief will launch on the PC in the last week of February. PC gamers can choose between a $49.99 standard edition or a $52.99 master thief edition. The latter comes with a digital soundtrack, art book, and comic book as well as a batch of in-game items. Pre-order customers will get a bonus bank heist mission.
Image 1 of 6