Thor: God Of Thunder Debut Gameplay Trailer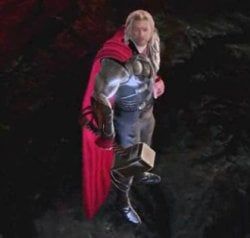 If you thought only cool games were being shown off at Spike TV's VGAs, you thought wrong. Some of the lesser anticipated titles of next year were also on display, including Sega's movie-based game, Thor: God of Thunder.
The game is obviously designed in the likeness of recent action-adventure titles, including God of War 3 and EA's Dante's Inferno. This means that there will be plenty of quicktime moments and lots of hammer-bashing, bad-guy throwing gameplay segments. The biggest difference between Thor and his competitors is that they were rated 'M' and could get away with head-ripping, body-tearing, boob-feeling action, where-is Thor will have to settle with a lot of straight hammer blows to the face.
You can check out the new gameplay trailer for Thor: God of Thunder below or visit the Official Website to learn more about the game.
Staff Writer at CinemaBlend.