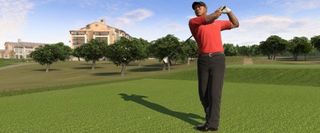 EA Sports released Tiger Woods PGA Tour 12: The Masters on the PC and Mac today. PGA Tour 12 is the first game in the series to feature the Masters Tournament and Augusta National Golf Club.
PGA Tour 12 features a "Road to the Masters" career mode. You start out as an amateur and work your way through the ranks. Eventually you'll compete in the Masters Tournament and win a Green Jacket.
The game also lets you relive Masters' history. The game will throw you into various famous moments from past tournaments. For example, you'll be able to replay Tiger's four wins at the Masters and see if you can equal or beat his scores.
Boxed copies of PGA Tour 12 can be purchased through Origin.com and other retailers for $39.99. Each copy of the game comes with three-month membership to the browser-based game Tiger Woods PGA TOUR Online. This membership gives you access to extra content such as multiplayer modes, courses, and group tournaments.
The PC version of PGA Tour 12 can also be purchased in digital form through Origin. Both boxed and digital copies of the PC version will have Origin integration. This enables the game to get automatic updates, easy access to DLC, and real-time chat with friends.
A launch trailer for the PC and Mac versions is below.
Your Daily Blend of Entertainment News
Staff Writer at CinemaBlend.