Tom Clancy's EndWar ElitePack DLC Available For PS3 And Xbox 360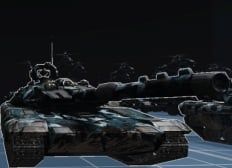 Ubisoft announced today that they have deployed new downloadable content for popular RTS game, Tom Clancy's EndWar. The new content includes some extra battalions and six bullet-busting new upgrades. Keep reading to find out how much this is going to cost you in MS points.
According to the press release,"The "Faction Elite Pack" DLC will include three new battalions (one per faction) and six new upgrades (two per faction). These new elite battalions include the legendary JSF 15th Special Operations, the Spetsnaz Alpha Brigade, and the Enforcer Corps Battlegroup. The "Faction Elite Pack" will also grant immediate access to six exclusive unit upgrades including Ceramic Armor for the Spetnaz Guard Brigade and Caseless Ammunition for The European Federation's Gunships to name a couple.
It will only cost gamers a meager 300 MS Points, or $3.75 from the PlayStation Store. Not bad, not bad. In addition to laying down some new content for EndWar Ubisoft also unveiled some screenshots for the new downloadable content. So gamers can at least look before they buy.
You can check out the screenshots below or visit the Official EndWar Website for more details about the game. Be sure to stay tuned in with Blend Games for more news and updates on the latest gaming titles.
Image 1 of 9