Tomb Raider Pre-Order Bonuses Include DLC, Art Book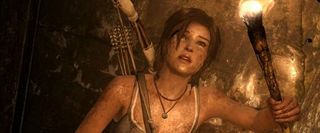 Gamers will get very different pre-order bonuses depending on where they reserve their copy of Tomb Raider. Amazon, Best Buy and GameStop are all offering distinct sets of freebies to their customers.
GameStop pre-orders will get a new Challenge Tomb. This tomb is said to test players' platforming and puzzle skills. It's a standalone experience so presumably you access it from the game's main menu.
Amazon's bonus DLC is limited to a "Hunter Skin" that covers Lara in natural camouflage (i.e. mud). However, the online retailers is also offering a 32-page art book assembled by TR art director Brian Horton. Furthermore, you'll get a mobile app called "The Final Hours of Tomb Raider" that gives you a behind-the-scenes look at the game.
Best Buy is also offering a character skin. The Aviatrix Skin will let Lara look like a 1930's adventurer. Also included in this pre-order bundle is a graphic novel called Tomb Raider: The Beginning. This 48-page hardcover story, penned by the game's lead writer Rhianna Pratchett, explains the back-story behind Lara's first voyage.
The pictures for each pre-order bundle mention three stages of extras. Apparently these retailers have even more freebies to reveal. Announcements will occur on December 18th and in January.
Staff Writer at CinemaBlend.
Your Daily Blend of Entertainment News
Thank you for signing up to CinemaBlend. You will receive a verification email shortly.
There was a problem. Please refresh the page and try again.