Touchmaster Actually Has Something Going For It?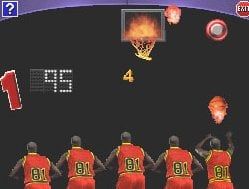 Touchmaster is a new DS game that is basically the embodiment of every joke made about Nintendo hardware. If you haven't already figured out that it's a mini-game compilation, then you haven't been following the DS release schedule very closely.
Brain Age made the formula popular and now everyone and their parent company is jumping on the bandwagon. The latest one to step up to the plate and try it's luck is Touchmaster. Though it may not have much to stare at in terms of innovative gameplay, it seems like it might have a pretty cool aspect to it after all.
Midway is hosting a long set of tournaments for Touchmasters mini-games accessible through the Nintendo Wi-Fi Connection.
From the press release: "The tournaments will be broken into two categories. Mahki Mondays will run every Monday from 7/2/07-7/2/08, while Touchmaster Thursdays will run for 23 weeks, with a new game each week, until 11/29/07. Each tournament will run from 12 AM until 11:59 PM EDT.
Touchmaster Tournament Schedule:
6/28 - Mahki
7/5 - Target 21
7/12 - Artifact
7/19 - Pond King
7/26 - 3 Peake Deluxe
8/2 - Word Search
8/9 - Pairs
8/16 - Triple Elevens
8/23 - Hot Hoops
8/30 - Gem Slide
9/6 - Uplift
9/13 - 5 Star General
9/20 - Wordz
9/27 - Classic Solitaire
10/4 - Pick Up 6
10/11 - Mah Jongg Pairs
10/18 - Power Cell
10/25 - Times Square
11/1 - Crystal Balls
11/8 - Double Take
11/15 - Trivia
11/22 - Go Wild
11/29 - Power Cell
Midway has yet to comment on whether or not prizes or money will be available to the winners of these tournaments, although personally I doubt it. In fact I think that would violate a lot of gambling laws.
Our review of the game is on its way. But until then, we can't pass judgement on the game. Although you can be sure that we will have a review up soon to let you know whether these tournaments are worth the price of admission.
Your Daily Blend of Entertainment News
Thank you for signing up to CinemaBlend. You will receive a verification email shortly.
There was a problem. Please refresh the page and try again.