Tritton Pro True 5.1 Surround Sound Headset Now Available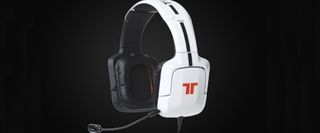 Mad Catz has announced that their top notch headset for the Xbox 360, PS3, Mac and PC is currently shipping and now available for purchase from participating outlets. The Tritton Pro+ True 5.1 Surround Sound Headset brings gamers authentic Dolby Digital 5.1 sound with eight individual drivers, four in each earcup, to deliver heightened sound that won't drive your neighbors insane.
If you're a sound aficionado but you can't afford to deck out your place with top of the line speakers because you live in an apartment or your house is close enough to your neighbors that you can reach from your bathroom window and grab a roll of toilet paper from out their bathroom, then you're going to have to settle for a high-end headset because you certainly don't want the police knocking at your door at some unruly hour of the night while you blast your 80s synthpop at the highest level.
Darren Richardson, the President and Chief Executive Officer of Mad Catz commented in the press release, saying...
Yeah, yeah, yeah. In other words, you can blast your 80s synth-pop at the highest levels while rocking out to some mean architectural co-op sessions with your friends in Minecraft and you don't have to worry about someone leaning into your bathroom window to tell you turn the volume down.
The in-line remote and returning Selectable Voice Monitoring (SVM) system also enables users to exercise complete control over their listening experience.
While the Tritton Pro+ True 5.1 Surround Sound Headset sounds like an awesome piece of gaming gear, the only downside is that it doesn't have a very friendly pricetag...clocking in at $199.99. If you don't mind the expense it might be worth it. You can learn more about the new device by paying a visit to the Official Website.
Staff Writer at CinemaBlend.
Your Daily Blend of Entertainment News
Thank you for signing up to CinemaBlend. You will receive a verification email shortly.
There was a problem. Please refresh the page and try again.