Turtle Beach's PX5 Sound Editor Released With New Presets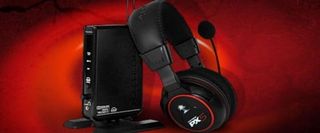 Have you heard about that super kick-butt new headset from Turtle Beach called the PX5? Well if you haven't, it's an uber-awesome Dolby Digital, 7.1 Surround Sound headset with a noise canceling mic and optional audio presets to enhance the gaming experience like never before.
Turtle Beach announced today that the sound editor for PX5 has been released along with brand new programmable presets, so now horror games will sound more horrific and action games will sound more action packed. I'm not sure what puzzle games will sound like after the presets but I'm sure it will be for the best.
As stated in the press release…
The microphone and each frequency in the headset can also be modified using the sound editor so gamers can fine-tune a preset perfect for the game they enjoy playing. Visceral Games even designed a few customizable presets for the PX5 to work with Dead Space 2, so gamers will get an even more visceral audio experience when using the PX5 headset.
You can check out a list of features for the PX5 sound editor below. The headset is currently available for the PS3, Xbox 360 and PC. For more info feel free to visit the Official Website.
Key features and user benefits of the PX5 Advanced Sound Editor include:
• Sonic Lens technology allows the developers and users to emphasize or magnify specific audio cues or effects in game by frequency
• Independent multi-band EQ on the mic, chat and game channels allows developers to change the frequency response of the game sound
• Sound Field Expander processing creates a wider audio soundscape
• Blast Limiter allows developers to turn up the game volume to focus in on subtle sound without simultaneously increasing loud level sounds
• Independent noise gates on the mic, game and chat channels filter out undesired noise to allow for true silence
• Replaces the previously available Preset Manager software, by combining both functions into one bundled suite
• Currently available for Windows XP/Vista/7 platforms, with Mac capabilities coming soon.
Staff Writer at CinemaBlend.
Your Daily Blend of Entertainment News
Thank you for signing up to CinemaBlend. You will receive a verification email shortly.
There was a problem. Please refresh the page and try again.