The Twilight Zone's Pinball Arcade Kickstarter A Success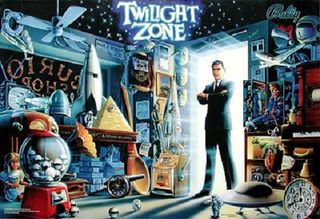 The modern marvel that is Kickstarter has done it again, this time bringing together more than 2,000 eager backers to raise $77,499 in order to cover the licensing costs for a The Twilight Zone virtual table to be included in FarSight's The Pinball Arcade.
While many virtual pinball studios focus on original tables built from the ground up specifically for digital play, FarSight's efforts have been dedicated to recreating some of the most popular real world tables ever released. In order to do this, the developers must first cut through lots and lots of licensing red tape. It's a pretty straightforward process for many table but, when it comes to a table like the one based on the hit television series, The Twilight Zone, those costs can get to be a bit high for a smaller studio like FarSight.
That's where Kickstarter comes in. With The Pinball Arcade doing well on mobile, XBLA and PSN, FarSight decided to set its sights on the most requested—and considered by many to be the best—table out there. With a Kickstarter goal of $50,000 to cover all of the licensing costs, FarSight set out a month ago to raise enough support to finally make a virtual recreation of the beloved Twilight Zone table.
And this afternoon, the promotion came to a close with quite a bit of extra change left in the purse. A total of 2,365 backers joined the cause, raising more than $77,000 in order to see a virtual Twilight Zone table become a reality.
With its goal nearly met halfway through the process, FarSight promised that, if the Kickstarter raised twice the original goal, the additional funds would go towards the licensing for another fan-favorite table, Star Trek: The Next Generation. That goal was not met, but I'm guessing there's little stopping FarSight from adding those additional $20,000 to the piggy bank and starting up a second Kickstarter to finish off the difference.
I, for one, couldn't be more excited by this news. I'm a huge fan of virtual pinball and FarSight's offerings to have been remarkable. I've never been able to get my hands on an actual Twilight Zone table, so I'm ecstatic to learn that I'll be able to at least experience it in a virtual format.
To find out more about FarSight and its attempts to keep the pinball dream alive, visit the developer's official website.
Staff Writer for CinemaBlend.