Uncharted 3: Drake's Deception PS3 Bundle Coming In November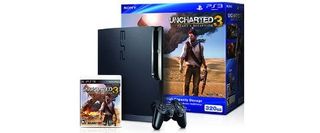 Sony believes that Uncharted 3: Drake's Deception is a system-seller. Today they announced plans to bundle the game with the PS3 console in North America.
The Uncharted 3 PS3 bundle gives you a copy of UC3, a 320GB PS3 system, and one wireless controller. They're also throwing in a month's subscription to PlayStation Plus. PS Plus is a premium membership for PSN that gives players discounts, early access to betas and demos, online save file storage, and more.
In Uncharted 3, treasure hunter Nathan Drake and his mentor Victor Sullivan are searching for a legendary lost city called the Iram of the Pillars. They're not the only ones seeking the city, though. A centuries-old secret society, led by the merciless Katherine Marlowe, will be a constant thorn in Nathan's side.
UC3 and the bundle will both arrive in North America on November 1st.
Staff Writer at CinemaBlend.
Your Daily Blend of Entertainment News
Thank you for signing up to CinemaBlend. You will receive a verification email shortly.
There was a problem. Please refresh the page and try again.