Vanquish Battles Its Way Into Retailers For Xbox 360 And PS3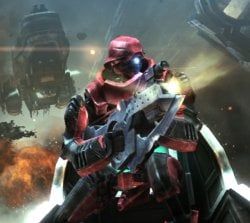 Sega's premier action shoot-e'm-up for the Xbox 360 and PS3 is now available at your local retailer, and now anyone can take advantage of the ARS Battlesuit so long as they have $60 and a game controller. Platinum Games seems to have put a lot of time and effort into this title, heaving up a unique artistic style and a dynamic sense of gameplay within Vanquish.
As stated in the press release…
PAL Territory gamers need not worry, though, the game is scheduled to hit retailers across Australia beginning October 21st and Europe on October 22nd. Vanquish is rated 'T' for Teen. Need to learn more? Well, check out the official launch trailer below or head on over to the Official Website.
Staff Writer at CinemaBlend.
Your Daily Blend of Entertainment News
Thank you for signing up to CinemaBlend. You will receive a verification email shortly.
There was a problem. Please refresh the page and try again.