Vanquish Trailer: Meet The ARS Battlesuit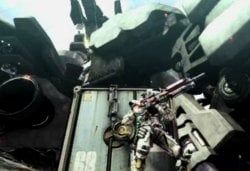 Unbelievable. That's about the best way to describe the action and visual splendor of Platinum Games' remarkably high-tech shooter, Vanquish. Sega released a new trailer for the game specifically showcasing the Lamborghini of mobile-robotic armor, the A.R.S. Battlesuit.
The trailer definitely makes you want to play the game and the features are quite snazzy. There's a huge mix of multiple gameplay elements all happening at once within Vanquish, combining the button-mashing nostalgia of classic Sega arcade games with the high-end run-and-gun mechanics of newer titles like Dead to Rights or John Woo's Stranglehold.
You can grab a glimpse of the fast-paced gameplay and visually stunning battlesuit in the new trailer below. A demo of Vanquish is currently available, with the full game following suit for a retail release next week. For more info feel free to visit the Official Website
Staff Writer at CinemaBlend.
Your Daily Blend of Entertainment News
Thank you for signing up to CinemaBlend. You will receive a verification email shortly.
There was a problem. Please refresh the page and try again.