Velvet Assassin And X-Blades Comic-Con Screenshots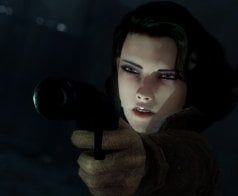 SouthPeak Interactive has some big plans for their games at the New York Comic-Con. The event will take place between February 6th and the 8th. But before you dress up like your favorite hero and go storming into the convention, you might want to feast your eyes on some new X-Blades and Velvet Assassin screenshots.
A word of advice for those of you thinking that you can get away with cosplaying as Ayumi from X-Blades, you might want to think twice. Outfits like that could get you thrown in jail…especially if you're a guy. They even have a special place in prison for people like that.
Anyway, the new screenshots for Velvet Assassin are actually kind of cool: Some close-up shots and a burning mansion are just a of few of the assets SouthPeak released leading up to the convention. You can check them out along with the X-Blades screenshots below. For more news and info on all things gaming, be sure to stay tuned in with Blend Games.
Image 1 of 7
Image 2 of 7
Image 3 of 7
Image 4 of 7
Image 5 of 7
Image 6 of 7
Image 7 of 7
Staff Writer at CinemaBlend.