Veteran Map Pack Available For Tom Clancy's EndWar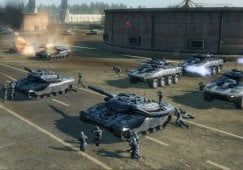 If you're still playing EndWar; still kicking butt; still skirmishing; still owning all who stand in your way, then there's good news for you veteran game-players because Ubisoft has released a new Veteran Map Pack that features some brand new challenges.
It's some short and sweet news but some good news, nonetheless. Ubisoft dropped the news out of the bag today, regarding the current availability of the Veteran Map Pack for the Xbox 360 and PlayStation 3.
So what's contained within this new DLC pack? For starters, more challenging missions, the… "New missions include the assault on Russia's Cosmodrome and the conquest of the Strategic Petroleum Reserve in Richton, Mississippi, USA" so says the press release. The new missions on the new battlefields are playable in the skirmish modes of Tom Clancy's Endwar.
In addition to this news we actually have some new screenshots of the DLC available. So you can check that out below or visit the Official EndWar Website for more info. As always, be sure to stay tuned in with Blend Games for more news and info regarding all things gaming.
Image 1 of 12
Your Daily Blend of Entertainment News
Staff Writer at CinemaBlend.