Video Games Could Save Your Marriage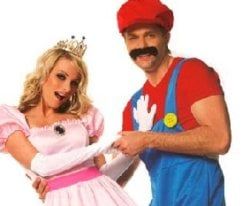 According to a new research survey conducted by Kelton Research between January 6th and January 19th, 2009 for Game Crazy, found that 80 percent of Americans actually would like to play games with their partner, spouse and super-significant other. Ah, now doesn't that just warm your heart? Anyway, the study also found that gaming could help couples stay together. You might want read on before continuing through with that call to your divorce lawyer.
"Video gaming can be extremely beneficial for a couple's relationship because it promotes bonding and feeling close, helps refine a couples ability to problem solve together and, most importantly, encourages having fun and laughing with one another," said Dr. Diana Kirschner, relationship expert and author of Love in 90 Days. "As a matter of fact, it is my experience that the couples that play together stay together!"
More than 25 percent of the participants in the survey felt like gaming was a good way to work as a team (and it is, seriously). Gaming was also seen as a good 'ole fashioned way to get close to someone without spending a lot of cash. During these trying economic times you have to admit that gaming sure is a heck of a lot cheaper than that trip to Aspen, am I right? Am I right?
Anyway, the survey also found 80 percent of the female participants played to beat their partners when playing games, while only 56 percent of the male participants aimed to accomplish the same thing. Moreover, 44 percent of the other males felt like it was more honorable to let their female companions win during a competitive gaming bout. Yeah, some guys are smart enough to let women win during head-to-head competitions…it's a simple tactic called foreplay.
Unfortunately, the survey listed a few games that were good for couples to play together, and they happened to list mostly Wii games. In the interest of keeping lovers playing and staying together, I'm going to list the titles the researchers felt most likely to keep couples happy during gameplay:
Wii Sport or other sport-themed games - who doesn't want to engage in some friendly athletic competition?
Rock Band or Guitar Hero - it's all about making sweet music together.
Mario Kart - Mario and Princess Peach make the perfect couple.
Thank you surveyors for naming games that forces writers to shamelessly promote Nintendo products. Anyway, you can check out the listed games and other titles by visiting Game Crazy's Official Website. And who knows, maybe some Wii Sports will help mend your broken marriage and keep that divorce lawyer trapped in the office…lonely and bored.
For more news and info on all things gaming, be sure to stay tuned in with Blend Games.
Staff Writer at CinemaBlend.
Your Daily Blend of Entertainment News
Thank you for signing up to CinemaBlend. You will receive a verification email shortly.
There was a problem. Please refresh the page and try again.