WWE All Stars Release Date Announced For Wii, PS2, PS3 And Xbox 360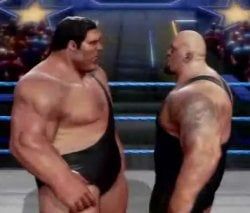 THQ has shifted a little bit of their focus away from Smackdown Vs Raw at the moment and instead have gone old-school with a brand new WWE game featuring the superstars only. This means you can match up legends like Macho Man Randy Savage with greats like The Rock, Andre The Giant versus Big Show or pit John Cena against Stone Cold Steve Austin.
As stated in the press release…
The game features way over-the-top moves and special moves that mimic Acclaim's Legends of Wrestling series fused with Acclaim's WWF Royal Rumble arcade game.
You can check out two new debut trailers for WWE All Stars below or head on over to the Official Website to learn more about the game. WWE All Stars is set for release on March 29th for the Xbox 360, PS3, PS2 and Wii.
Your Daily Blend of Entertainment News
Staff Writer at CinemaBlend.